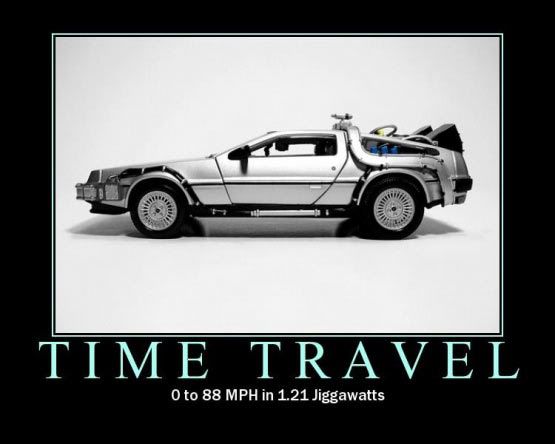 Last night we watched the new Star Trek movie on DVD. We had seen it in the theater, loved it, and I got the DVD for Christmas. We finally had a chance to watch it and so we did. The movie involves time travel a bit, and I had a short discussion Teresa and her parents on how it worked. It got me thinking. I have some pretty strong feelings when it comes to time travel in my science fiction. Sometimes it's done well, and sometimes it's done very poorly. When it's done poorly, it grates on me and takes a lot of the enjoyment out of whatever I'm watching or reading. Since it seems to be something I have such a strong opinion on, I felt it was worth putting on my blog. Before I get into this, be forewarned I'm probably going to talk about books, TV, and movies I've seen that involve time travel, in which case there may be spoilers for those things.
We'll start with the movie. In this case, I think it was done very well, and the plot device itself lends itself to a new franchise of Star Trek that doesn't interfere at all with the previous iterations of Star Trek. Here's how it works. In the movie, people from the future travel through a black hole into the past. At the moment they enter the past, they essentially change history. But they don't change their own history. They have created an alternate reality. Think of it like this. If I go back in time and prevent my parents from meeting. I won't be born. But I was born, since I went back in time to prevent my parents from meeting. So rather that have this paradox, we go with an alternate reality. In the reality I came from, my parents met, I was born, and so forth. In this new reality that I created by prevent my parents from meeting, I will never exist. In this manner, I could travel through time creating any number of realities through my actions without interfering with my own. And when I was tired of messing with things, I could return to my own reality where nothing was different.
The reason this works so well for Trek is because now the crew of the Enterprise can have their own adventures without having to explain why it's different from the adventures of the original series TV show and movies. The moment Nero entered the past, nothing would be the same for the people in that reality. Kirk's life was changed immediately because his father died that day that the timeline was affected, and by proxy so was everyone on the Enterprise. It also explains why the old Spock can't predict the future for the other Spock and Kirk. Because in this reality, things could turn out very differently.
Another good way to do time travel is how they've done it on the TV show, Lost. In Lost, there is no alternate reality (that we know of...). It's all on one time line. But they stick to the mantra that whatever happened, happened. Essentially what this means is that even if I could go back in time on my same timeline, I couldn't change anything in the past because it's already happened. I may not go back to 1970 until I'm 30, 2 years from now, but my future self has already existed in 1970. If I went back on my same time line to prevent my parents from meeting, I wouldn't be able to. The evidence is that I exist. In Lost, everything that the main characters did in the past had already happened when they first showed up on the island. They didn't know it because they hadn't done it yet, but it had happened. My own personal theory, in keeping in line with what ever happened, happened, is that the end of last season has no effect on what will happen to the main characters. The same thing that happened before they went to the past will still happen.
I think one of the episodes involved a character saying that he was wrong about whatever happened, happened. But I think they used that episode to prove him wrong in his assumption. I read series of books that involved warp portals that led to the past. The premise in the book was that the universe would not allow a paradox, so if you went back in time to shoot someone before their time, the gun would misfire, or the bullet would miss, or something of that nature. You could not change the past, even though you could travel to it.
Essentially all of this is an effort to avoid a paradox. I can't go back in time and kill myself because then I wouldn't be able to grow up, go back in time and kill myself. (Note: Alternate realities allow for this, but I wouldn't be killing me, I'd be killing an alternate me.)
So those are my favored time travel applications. Let's look at some bad ones.
Back to the Future. I love these movies. They're fun, and they're geek movies. But the way they do time travel isn't very well done. Marty fails to get his parents together and he starts to disappear. What the heck? And then when he changes things, he can remember how it used to be, but his parents and friends can't. They have instantly changed to reflect the things that Marty changed in the past. This happened recently on Heroes too when Hiro got Ando and Hiro's sister to fall in love at the carnival. When he got back to the present, it's like Ando and his sister were different people. But Hiro remembered what the old timeline used to be. The reason I don't like this way of time travel is because it's confusing. If Hiro changes the past, then there's nothing to go back and change when he gets to the future. Time lines are being created and destroyed. What happens to the past that was erased? If it didn't happen, then why did it need to be changed?
Star Trek actually uses time travel a lot in the other TV shows and movies. Probably the most frustrating thing with this is that they aren't consistent with the theory of time travel they use. Sometimes they're going to alternate universes. Sometimes they're changing their own past Think Tasha Yar as a Romulan, or the crew of DS9 having dopplegangers in a parallel universe. And then just recently, Teresa and I watched the episodes where they discover Data's head and then go back in time. This time, they follow the whatever happened, happened idea. It's also interesting to note that what caused them to travel back in time, was the discovery of something that they left back in the past. Think about it.
For me, it all stems from how believable it is. Star Trek is fiction, but it's supposed to be believable. We're supposed to think that this stuff could actually happen in the future, even if it is a lot of techno babble and untested theories and out and out fiction. When a show or movie does something that just doesn't even make sense, even in the context of it's own universe, it takes a lot out of the enjoyment for me, and I think it's more confusing for much of the audience.
Lost's final season starts tomorrow, and I'm eager to find out if they stick with the same theory of time travel. If they don't, I'll be disappointed, but I'm fairly certain they well. The producers of Lost also directed and produced Star Trek.
I should note a couple extra things. Nearly all of these examples involve traveling in time to the past. Traveling to the past has the hardest implications for paradoxes and manipulating things. Traveling to the future is less exciting. It's more about seeing what people are like a given number of years from now. If you change something in the future, that doesn't affect anything about the course of the future. It just means a person from the past did the affecting instead of a person from the future-present. Also, as much as I hope we someday have star ships and travel in space, I don't actually think time travel is possible. There are two many complications and chances for paradox. Alternate reality is probably the most likely, and it's still a hard thing to grasp and prove today. Time will tell.